"BLIND DATE CONCERT" IN COLOMBIA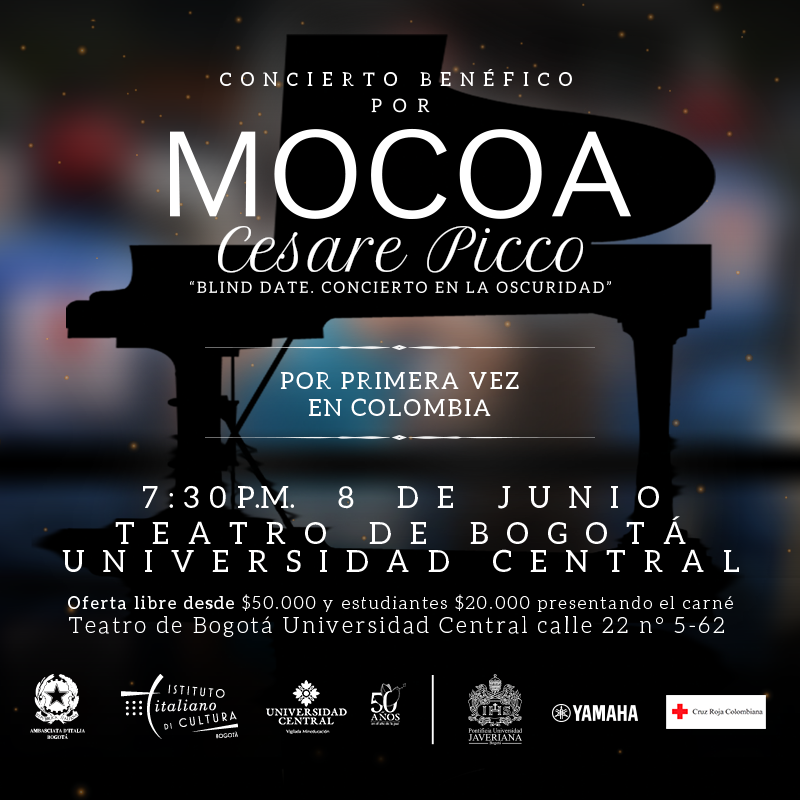 Por primera vez en Colombia - 8 de Junio 2017
"BLIND DATE - Concert in the Dark"
Después de los sold-out en Roma, Milán, Florencia, Tokyo, Lugano, llega por primera vez a Colombia en el Teatro de Bogotá, el jueves 8 de junio 2017 a las 7.30 pm, "BLIND DATE- Concert in the Dark", concebido por el pianista y compositor italiano Cesare Picco.
Esta velada especial es organizada por el Instituto Italiano de Cultura junto a la
Ambasciata d'Italia - Bogota
en Bogotá para celebrar la donación de 300.000 euros que el Gobierno italiano relizó a favor de la
Cruz Roja Colombiana
después de la reciente tragedia que afectó Mocoa, y para seguir recaudando fondos para la recuperación de la población del Putumayo.
Gracias a la contribución de los asistentes la Cruz Roja Colombiana
podrá apoyar a diferentes familias para restablecer sus ingresos económicos a través de la generación de proyectos productivos y autosostenibles.
Questa serata speciale è organizzata dall'Istituto Italiano di Cultura di Bogotà insieme all'Ambasciata d'Italia in Colombia per celebrare la donazione di 300.000 euro che il Governo italiano ha effettuato in favore della Croce Rossa colombiana dopo la recente tragedia di Mocoa, e per continuare a raccogliere fondi per gli aiuti alla popolazione del Putumayo (regione amazzonica colombiana).

Grazie ai contributi raccolti durante la serata la Croce Rossa colombiana potrà realizzare un progetto speciale che sarà annunciato prima del concerto.
"Abbiamo scelto l'emotivo e coinvolgente spettacolo di Cesare Picco per dare un messaggio di speranza alla popolazione di Mocoa, attraverso il forte significato simbolico dello sprofondamento nel buio seguito dal ritorno alla luce" ha affermato l'Ambasciatrice d'Italia in Colombia, Caterina Bertolini.